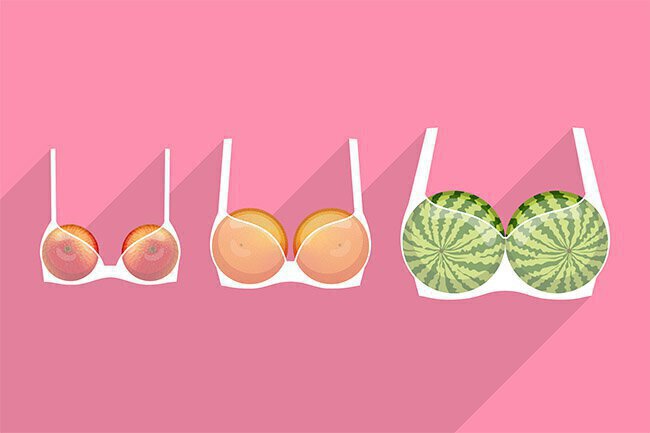 Bra Size vs Breast Size
Bra size or cup size is not always easy to predict from your breast size. While the terms are related, their meanings are different. Our patients commonly ask what bra size they will be after their breast augmentation surgery. This is a realistic question that almost all women ask about prior to undergoing breast enhancement procedures. We may be capable at predicting what cup size you will look like inside and outside of your clothes however, it is nearly impossible for us to predict what bra cup size you will actually wear after breast augmentation surgery. Many women find this disconcerting, as all women find bra shopping time-consuming, expensive, and sometimes challenging. In the end equation, the bra size that you end up wearing after breast augmentation is not as meaningful a factor as women perceive it to be. While this may sound beyond reason, lets examine this issue from an objective perspective, and evaluate the true definition of bra cup size.
Bra Cup Size Defined
The term bra cup was first introduced in 1916 after two patents were filed in the United States. Initially, they were called small cup, medium cup, and large cup. In 1932, S.H. Camp and Company introduced the alphabetical measurement we know as A, B, C, and D. Subsequently, bra companies across the United States adopted the A-D cup scale, culminating with Sears Company publishing their annual Sears Catalog with A-D cup in 1950. After this, companies universally shifted away from small, medium, and large cup sizes to alphabetical sizes.
So what is cup size, and how do we define it? Two measurements are required to define your bra cup size. Again, this is different than the actual size of your breast, and how your breasts will look after augmentation. The first measurement is referred to as band size, also known as the underbust measurement. Band size is measured in the standing position by measuring the circumference of the chest at the level of the inframammary fold (IMF). The IMF is the point at which the breast meets the chest wall, also called colloquially as the underboob. This measurement is made in centimeters or inches.
Next, bust size is measured circumferentially around the point of maximal projection of the breast while standing up. After breast augmentation, this measurement is commonly made at the level of the nipple, or at the halfway point of the humerus (upper arm bone). This measurement is also referred to as the overbust measurement.
these measurements are made, the underbust measurement is subtracted from the overbust measurement, and that number is plugged into the manufacturer's measuring chart. The difference then defines your cup size. Here is the rub, every manufacturer has a different measuring chart.
The reality, bra cup size is NOT an accurate measurement of how you look. Rather, it is really a corporate convention designed to mass produce bras that fit the majority of the female population. Somehow over the last 50 years, we as a society have been lead to believe that a D cup is fake and un-natural. In reality, the bra size has nothing to do with whether you look natural or fake. The most common bra size is currently in the United States is 36D but, this does not mean that most women in the US look fake.
Lastly, its important to consider style, fit of the bra together with your desired look. Bras are styled in full-coverage cuts, for v-neck cuts, semi-cups, and shelf bras. They all come in various degrees of support and padding. When you are an A or B cup, the only bras that you can fit into are, A and B cups because you won't fill the larger cups. However, after breast augmentation, you will be able to fit into a broader ranges of bra sizes depending on your ultimate look. So, you will still be able to wear smaller bra sizes (B/C) but, when you do so, your breasts will overfill the cups and this can be a desired look for certain dress occasions or when you are wanting to wow-the-crowd. Going for a larger cup size, will still allow you to fill the cup but, you may show less cleavage as compared to a smaller cup sized bra. Some bra manufacturers cut the cups very full as in the shape of a circle while others cut more deep v-neck lines or have demi-cups. So women, who are uncomfortable showing a lot of cleavage may opt for larger bra sizes when the cup is styled in a v-deck or shelf bra. Bras also have 3-4 levels of hooks in the back strap, allowing you to adjust the overall diameter around your chest. Pulling the loops closer together on a larger cup sized bra can achieve a similar look as to having a smaller cup size with but, hooking the strap out wider. Shoulder straps pulled up as compared to down, will also adjust your overall look. Comfort and proper fit will also play a role in the style of bra you choose and its ultimate size.
The take home message here is that cup size is just a number, and as a patient considering breast augmentation, do not let the letter/number deter you from your goals. In reality, the most common breast size in the United States as of 2014 is a D cup. The most salient concept with breast augmentation is how you want to look, not how corporate American wants you to fit in their bras!
Tags: Breast Augmentation